CHAPEL HILL, NC — Drake Maye jumped around and cheered along with his celebrating teammates in North Carolina's rocking postgame locker room last week as the ACC's Coastal Division trophy arrived and was presented to the coach Mack Brown and the tar heels.
Maye then found himself stepping out of the amusement park and taking a seat just beyond that sea of ​​revelry. Looking back on it now, the star quarterback isn't quite sure what prompted him to seek a quieter spot in Wake Forest that night. Maybe, he said, it was his way of letting go of the stress from another fearful escape down the road.
But whatever the reason, Maye is glad he made the move. It was a scene to enjoy.
"I just realize what we're up to and enjoy the moment," he said this week. "I think I'll just sit back and watch this trophy being passed around and just enjoy it. And just admiring the guys how much work we put into it. It's a year-round thing, it's a year-round thing, and how much we've worked for it. Just a proud moment to see that it worked."
With so much guesswork and expectation piling up, 13th-place Tar Heels (9-1 overall, 6-0 ACC) can't be caught overlooking what lies just ahead — visiting Georgia Tech (4th -6, 3- 4) and Saturday's matchup at Kenan Stadium (5:30 p.m. ESPN2).
UNC was installed as a 21-point favorite against the Yellow Jackets, a tremendous line considering the rollercoaster ride this season has become, the tight calls the Tar Heels have navigated time and time again while claiming six straight wins scored and secured the program's second appearance in the ACC championship game.
Noah Burnette's field goal with 2:12 left pushed North Carolina past Wake Forest 36-34 last week as the Tar Heels overcame a second-half deficit for the fourth straight season.
NC State is next on the UNC schedule, a rivalry showdown the day after Thanksgiving on ABC and the home finals in Chapel Hill. Then comes Clemson, long the ACC heavyweight, for the conference title — the Tar Heels haven't been ACC champions since 1980 — on ABC prime-time at Bank of America Stadium in Charlotte. Potentially two crowning opportunities on lit national stages that could boost UNC's credentials for the college football playoffs and further boost Maye's growing bid for the Heisman Trophy.
But first, Georgia Tech on Saturday, in that peculiar 5:30 p.m. time slot. Minutes after Maye emerged from the UNC locker room at Wake Forest last week, she was already calling the Yellow Jackets a proverbial trap game.
"They're still fighting for a bowl bid, so they're going to come in here and give us the best chance they have," Brown said. "It's going to be a really good challenge for our program. Everyone will be bragging about our boys and everyone will be talking about winning the ACC Coastal, getting ready for the championship game and asking for tickets. And then next week you have your rival and Senior Day and it's sitting in here where we better be preparing for the game.
"So that's going to be a really good test to see how we've matured. We didn't play great in Virginia when there wasn't much talk about the game. And this game will not be talked about as much in public as the state game and the championship game. So we need to get our minds ready."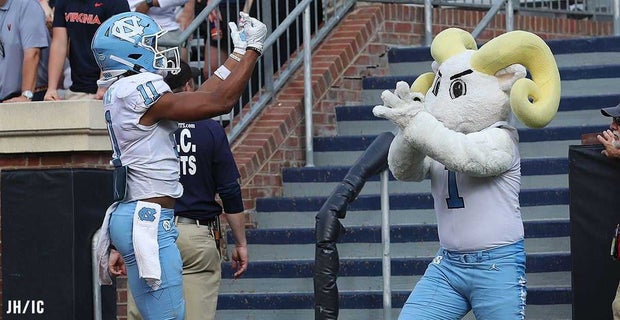 UNC may hit the 10-season win mark by beating Georgia Tech, a plateau the Tar Heels have reached only once since Brown's teams won 10 games in 1996 and 11 games in 1997, at the end of his first tenure as Responsible for the program. UNC is 5-0 against ACC Coastal opponents this season and can lead the division to a clean win with a win over Georgia Tech, who are 3-3 under caretaker coach Brent key.
Maye's season high of 448 passing yards at Wake Forest put him 336 yards away from the Tar Heels' season record (3,748 passing yards) set by Mitch Trubisky in 2016. Trubisky played in 13 games this season. Sam Howell played in 13 games in 2019 when he threw 38 touchdown passes, the school's single-season record in that category. Maye is also approaching this milestone. He has thrown 34 touchdown passes this season.
Maye wasn't the only thoughtful UNC star after the division clinch win at Wake Forest. There was one outstanding recipient Josh Downs, who held the Coastal Trophy in both hands after assistant coach Lonnie Galloway presented it to Downs during his postgame session with reporters. Downs called it a triumphant moment in years.
"But next, I want to get my hands on the ACC," he said.
Playmaker Downs has seemingly been grabbing everything within his reach lately. His 37 catches in his last three games have set an ACC record for such a length of time, and he leads the league with 74 catches and 11 touchdown receptions despite missing two games in September with a knee injury.
"We've come this far since last year, from overrated, underperforming, to this year where we're just hanging our heads," Downs said. "Just going there every day in the off-season and getting to this point is just a testament to the work we do. And it's also good for Coach Brown that all the work he's put in over the last few years is coming back from television.
"If we can win the Coastal, we have a bright future ahead of us. This is just the beginning. We have NC State, Georgia Tech and Clemson. I can finally say it, 'We're having Clemson in a couple of weeks.' So it's a blessing to be here."
First of all, here Georgia Tech means on Saturday. Brown said this week that the sight of the 45-22 loss the Yellow Jackets gave UNC in Atlanta last season "made me puke." The Tar Heels rushed just 63 yards, their lowest ground performance in four years under offensive coordinator Phil Longo, and Howell was fired eight times.
Brown compared Georgia Tech quarterback Jeff Sims to former Texas grandmaster Vince Young that night after Sims rushed for 128 yards and had four touchdowns (three rushing, one passing) against UNC. The Yellow Jackets will not have Sims or substitute Zach Pyron for Saturday's game due to injuries. Third-place finisher Zach Gibson is expected to start for the second time this season.
"Anyone who sees that film from last year has enough good players," Brown said, again warning against the Yellow Jackets. "And they flogged us in every way and overtook us. They totally dominated the game."