Microsoft is building four data centers in North Carolina in a phased development, in which it will invest at least $1 billion over the next decade.
The data center expansion will see Microsoft build the facilities at locations in Conover, Maiden and two in Hickory in Catawba County and create at least 50 new jobs, according to the Catawba County Economic Development Corporation.
Economic development agreements and incentive grants for the project were approved this week at a joint meeting by the Catawba County Board of Commissioners along with the elected councils of Conover, Hickory and Maiden.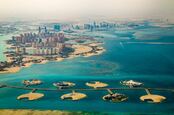 The Microsoft Azure cloud region sits above the desert in Doha, Qatar
CONTINUE READING
Terms of the agreement include a 10-year guaranteed minimum investment by Microsoft in Catawba County of $1 billion, with each community receiving $332 million, with an additional $33 million to Hickory for its second location.
Microsoft will receive performance-based incentive grants equal to 50 percent of the real estate value and 85 percent of the value of private property, awarded over a 10-year period. This means that local government agencies will essentially pay back that portion of Microsoft's wealth taxes over this period, according to reports in local media The Charlotte Observer.
Paul Englis, Microsoft's director of community engagement, said the move demonstrates Microsoft's long-term commitment to the local community.
"We are proud to partner with Catawba County, the EDC and local cities to bring exciting development projects to the area," he said in a statement.
Randy Isenhower, Catawba County Chief Executive, said, "By making the decision to build a significant base for data center operations here, Microsoft has joined a long list of companies that recognize the value of doing business in Catawba County." Microsoft and the local governments involved, and we will continue to work closely together as this project bears fruit."
Microsoft hasn't specified what capacity the new data centers will eventually build, but they're said to take up a total of 687 acres of land. The expansion is likely to involve additional capacity for the Microsoft Azure Cloud. We asked the company for more details.
Microsoft currently operates more than 200 data centers worldwide. Last year Microsoft said it plans to build new facilities in at least 10 more countries and aims to build between 50 and 100 new data centers each year for the foreseeable future. ®