Georgia Tech Football at No. 13/11 North Carolina
Saturday, Nov. 19 5:30 pm ET Chapel Hill, NC Kenan Stadium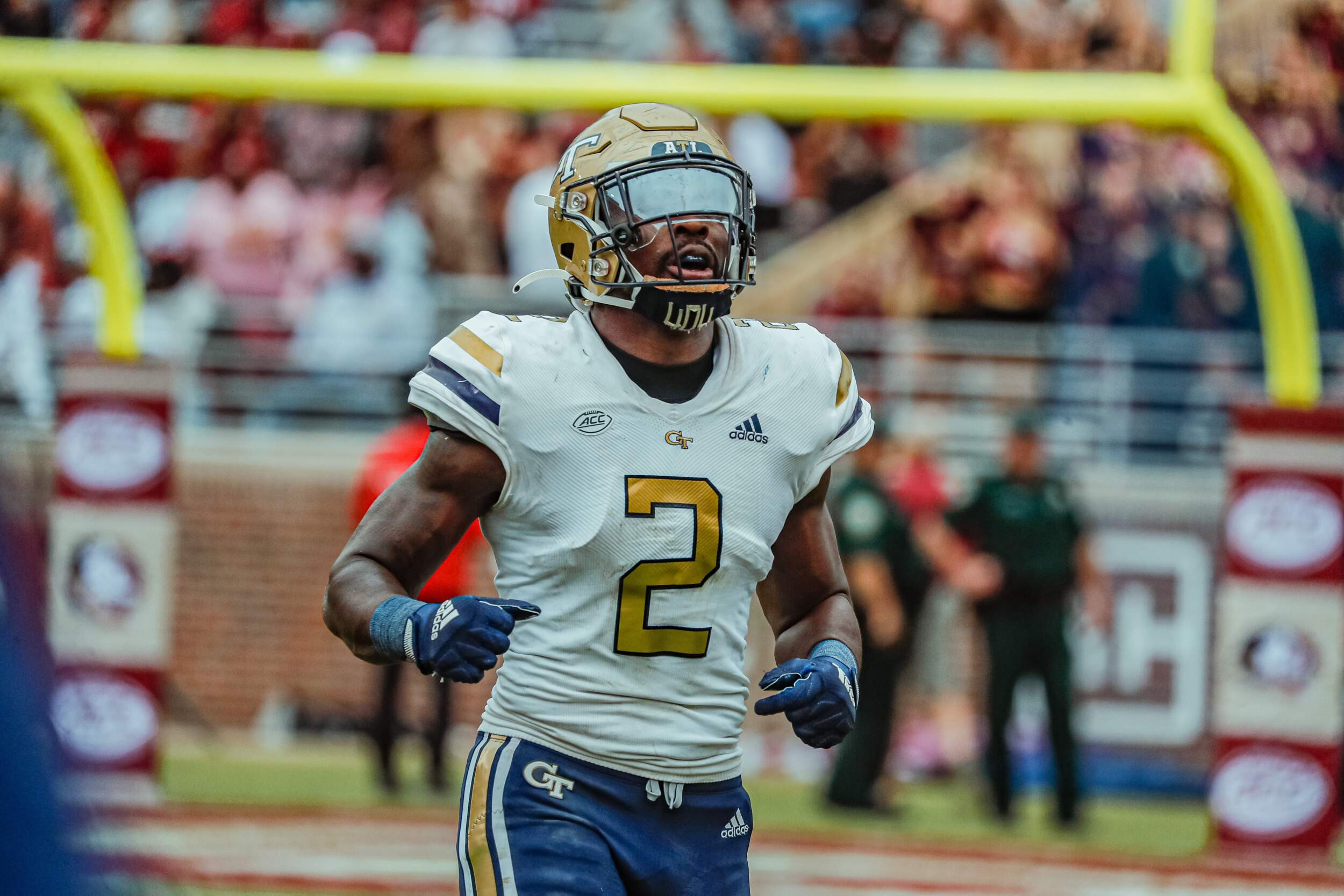 Linebacker Ayinde Eley (2 – above) is one of only two NCAA Division I FBS players since 2000 (Virginia's Micah Kiser in 2016 is the other) with as many as 98 tackles, 9.5 tackles for loss, 3.5 sacks, three forced fumbles and two fumble recoveries through his team's first 10 games of the season.
Top story lines
• Georgia Tech football begins a grueling finish to its 2022 regular season on Saturday when it visits No. 13/11 North Carolina.
• For the second-straight year, Georgia Tech wraps its regular season with back-to-back games against nationally ranked teams. Last season, the Yellow Jackets closed the campaign at No. 6 Notre Dame and versus No. 1Georgia. This year, the Jackets visit No. 13/11 UNC before traveling to top-ranked UGA. North Carolina and Georgia will be Tech's fourth and fifth nationally ranked opponents in 11 games against NCAA Division I FBS competition this season (joining Clemson, Ole Miss and Pitt), while two more Tech opponents (UCF and Florida State) have entered the national rankings since the Yellow Jackets faced them.
• Georgia Tech, who is 3-3 under interim head coach Brent Key, is looking for his second road win over a nationally ranked team under Key's watch. In Key's first game at the helm of the Yellow Jackets, they knocked off No. 24 Pitt, 26-21, on Oct. 1 in Pittsburgh.
• In order to claim its second-straight win over a ranked opponent, Tech will likely need to get back on the positive side of the turnover column. The Yellow Jackets, who entered last Saturday's game versus Miami (Fla.) ranked No. 2 nationally with a plus-15 turnover margin, were minus-four in the turnover column (4-0) in the 35-14 loss to the Hurricanes. Despite losing the turnover battle for the first time this season in last week's loss, the Jackets still rank fifth nationally in turnover margin (plus-11).
• Saturday's nationally televised game (ESPN2) will put a spotlight on perhaps the nation's top linebacking duo in Georgia Tech's Ayinde Eley and Charlie Thomas. The All-America candidates have combined for a remarkable 195 tackles, 18.5 tackles for loss, 5.5 sacks, five forced fumbles, four fumble recoveries and two interceptions in 10 games this season.
Competitive Drive Initiative
In a unified endeavor, Georgia Tech, the Georgia Tech Foundation, Georgia Tech athletics and the Alexander-Tharpe Fund have come together to accelerate funding for student-athlete scholarships with the launch of the Competitive Drive Initiative. The initiative kicks off with the Accelerate GT Match Program, where any new gift to the AT Fund's Athletic Scholarship Fund made through Dec. 31 will be matched dollar-for-dollar by the Georgia Tech Foundation, up to $2.5 million. Should Accelerate GT reach its $2.5 million fundraising goal, the matching gift would result in a $5 million impact for Georgia Tech athletics. To learn more and to contribute online, visit atfund.org/accelerate.
For the latest information on the Georgia Tech Yellow Jackets, follow us on Twitter (@GTAthletics), Facebook, Instagram or visit us at www.ramblinwreck.com.