A cold northwest current persists through the extended period that favors well-below-normal temperatures in the Front Range all week. We're also seeing a few shots of snow in this flow, with the best chances coming late in the week when grades and potential jet-powered snow bands converge. Read on for more details and what weather we can expect this week.
Highlights of this week include:
Far below normal temperatures throughout the week under a cold west-northwest current
Highs in the 30's to start the week and possible upper 20's by the end of the week
A quick midweek warm-up under weak midrib — but only in your 40s
Watch out for a few snowfalls – one Monday night and another Thursday night
Better chance is late week with grade and potential jet blown snow bands creating snow accumulation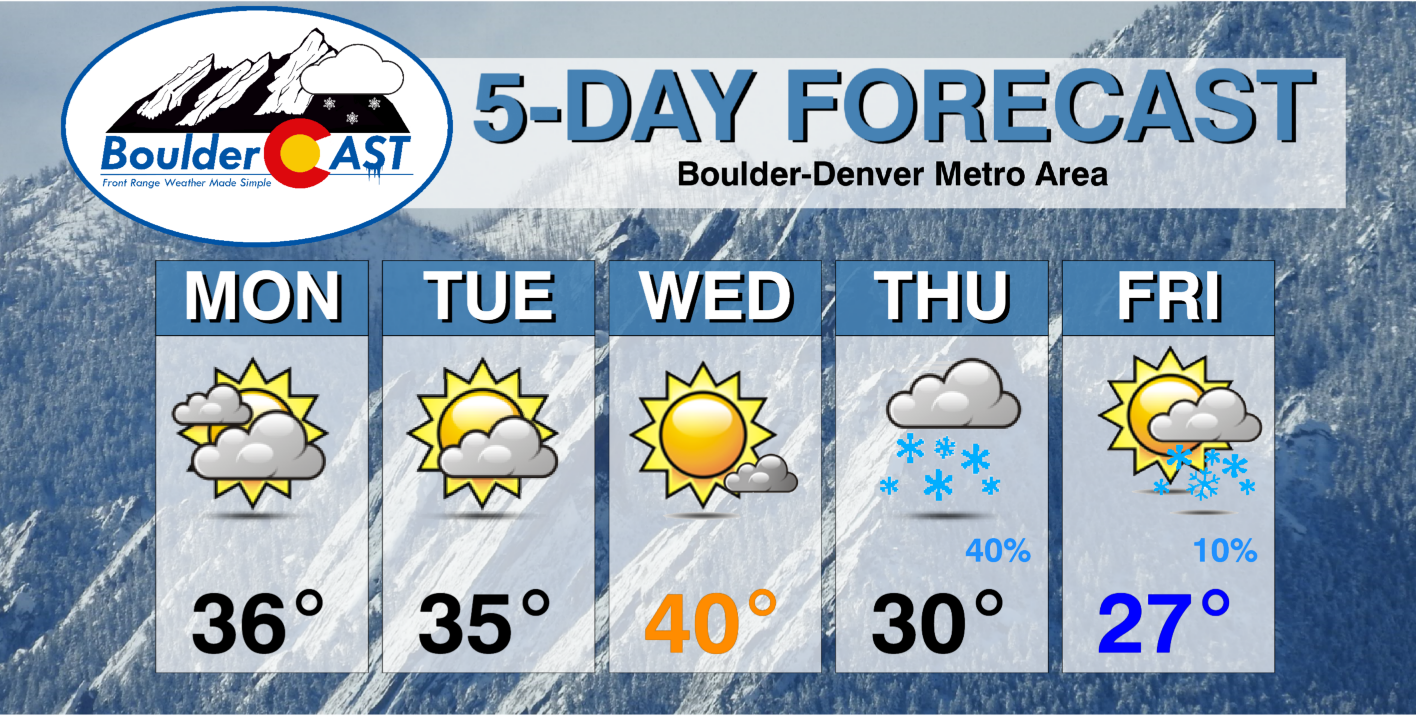 DISCLAIMER: This weekly forecast is made on Monday morning and covers the entire week ahead. Accuracy will decrease throughout the week as this post is NOT updated. Subscribe to BoulderCAST to receive daily updated forecasts from our team, among many other benefits bonus.
---
Cold through the week with a mini warm-up
A
a sustained cold west-northwest current will prevail over the intermountain west and across the central to north plains later in the week. The animation below is ECMWF's forecast for mean vorticity, showing several weak to strong shortwaves crossing from northwest to southeast in the broader current. A decent shortwave travels Monday night through Tuesday, while a second arrives late Thursday through Friday. The latter is the more prominent where snow accumulation is increasingly favored for the Front Range. We'll cover all of these details in our weekly outlook, so keep going!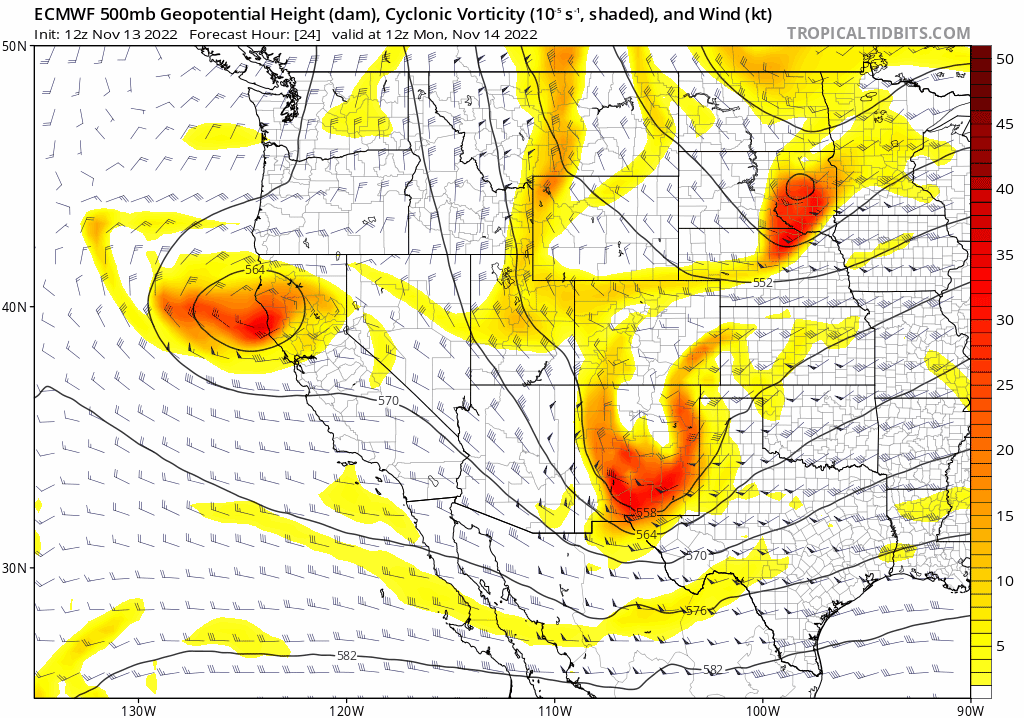 As a result of that cold northwesterly current present for much of the week, you guessed it – temperatures will be well below average with the first few days of the week starting in the mid 30's. Our average mid-November highs are in the mid-50s. Our warmest day, although still below normal, is Wednesday in the low 40's. A stronger push of cold air behind a stronger cold front could only usher in highs in the 20's by Friday.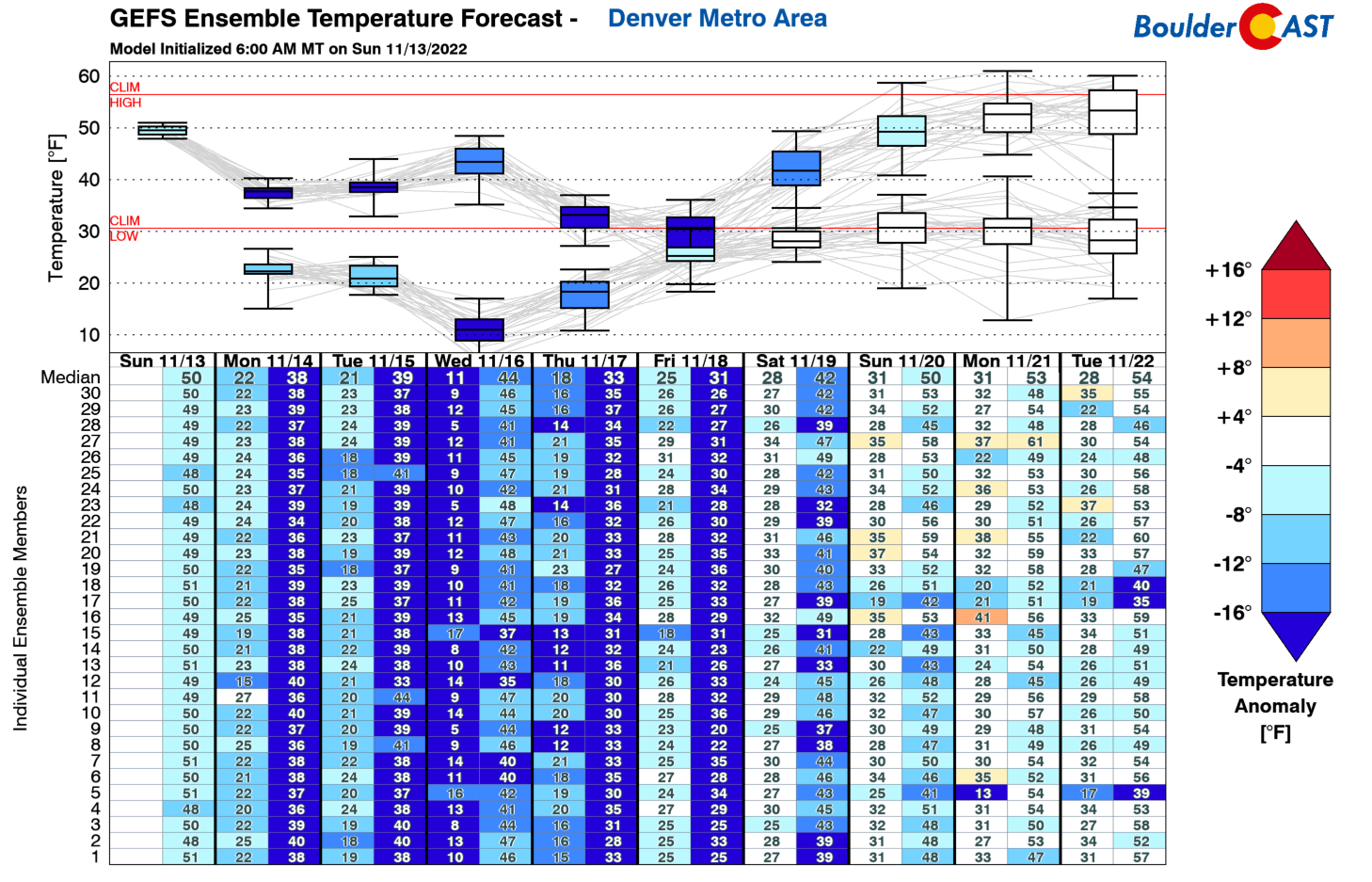 For Monday and Monday night, as we discussed earlier, there are some faint, subtle short waves moving into Wyoming territory through Tuesday noon. While shortwave is fairly moisture-poor, it could produce a few light snow showers or snow flurries tonight through Tuesday morning. No accumulation is expected and most areas will actually be dry. Snow probability is higher over the High Country where a few inches is possible due to weak orography there.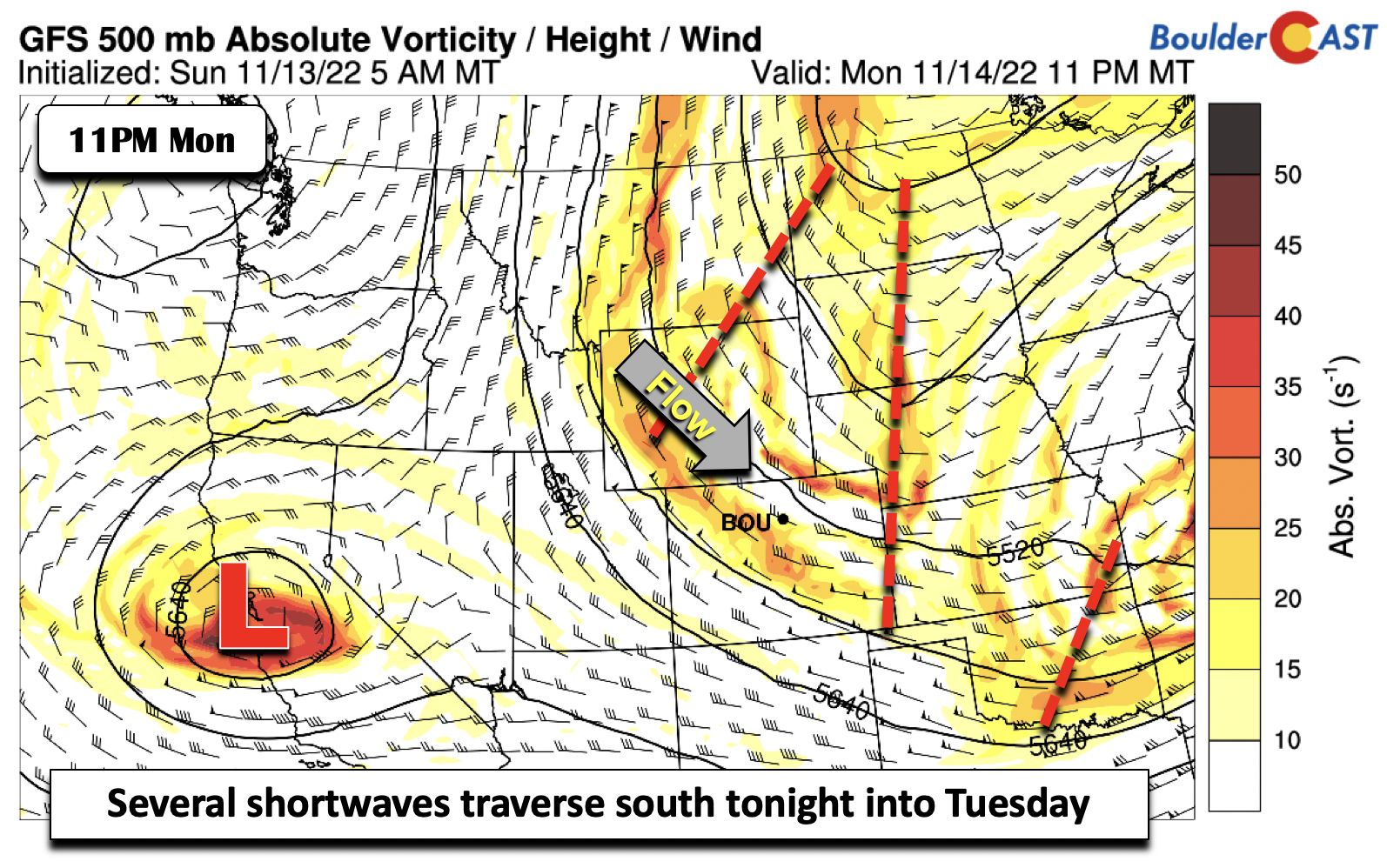 The main impact of this short Monday and Tuesday will be partly to mostly cloudy skies with medium to high humidity. Otherwise, expect cold temperatures in the mid to high 30s. There will be a faint warm-up on Wednesday as a strong ridge will shift east along the California coast. The actual center of this ridge will not reach Colorado, but its position will be sufficient to push the coldest air eastward.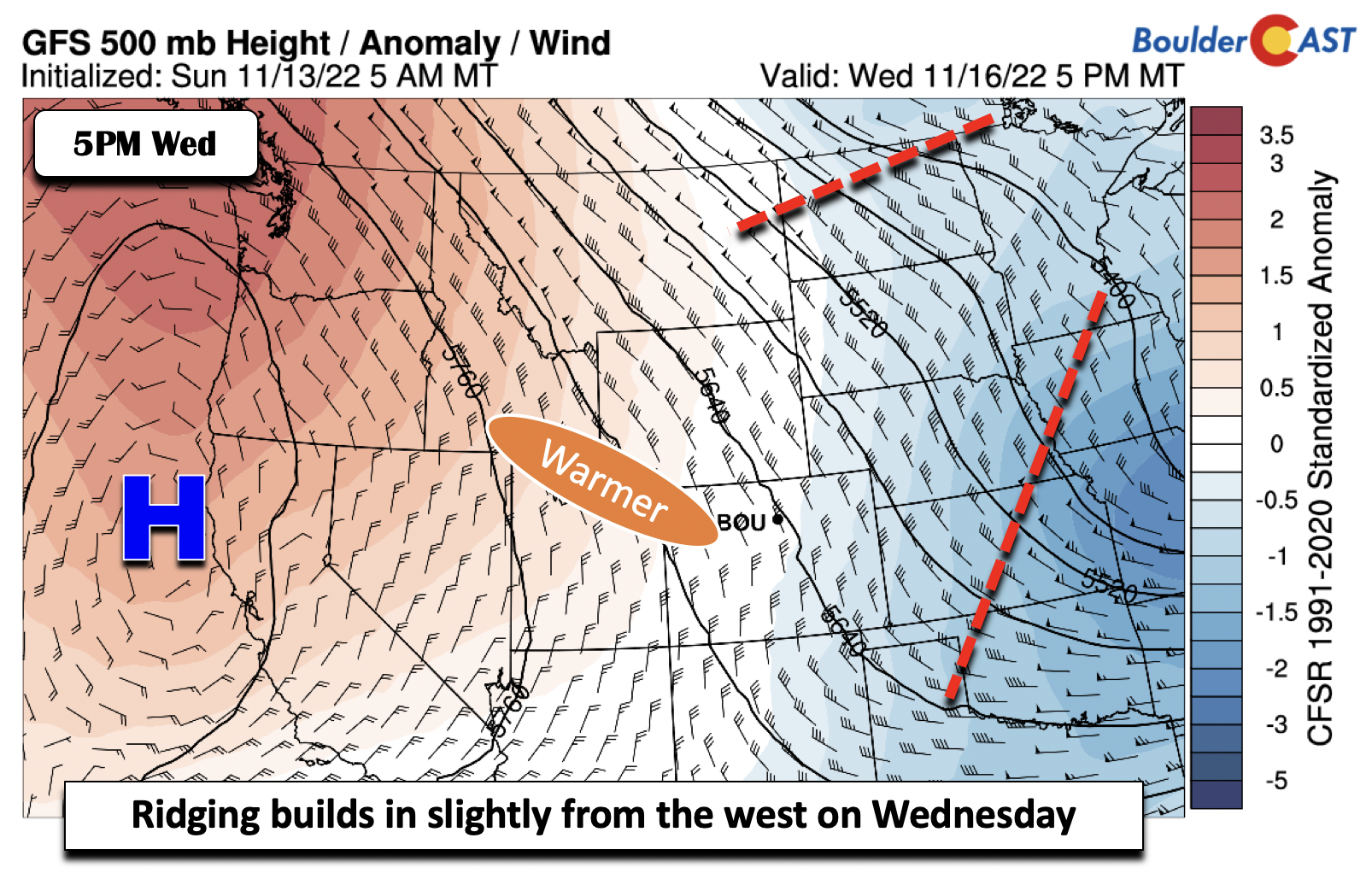 This pattern change will allow for gentle gradient currents on the plains and cause temperatures to reach the low 40s as sunshine increases. Keep in mind this is still about 15 degrees below normal so it's certainly not going to be a good pool day!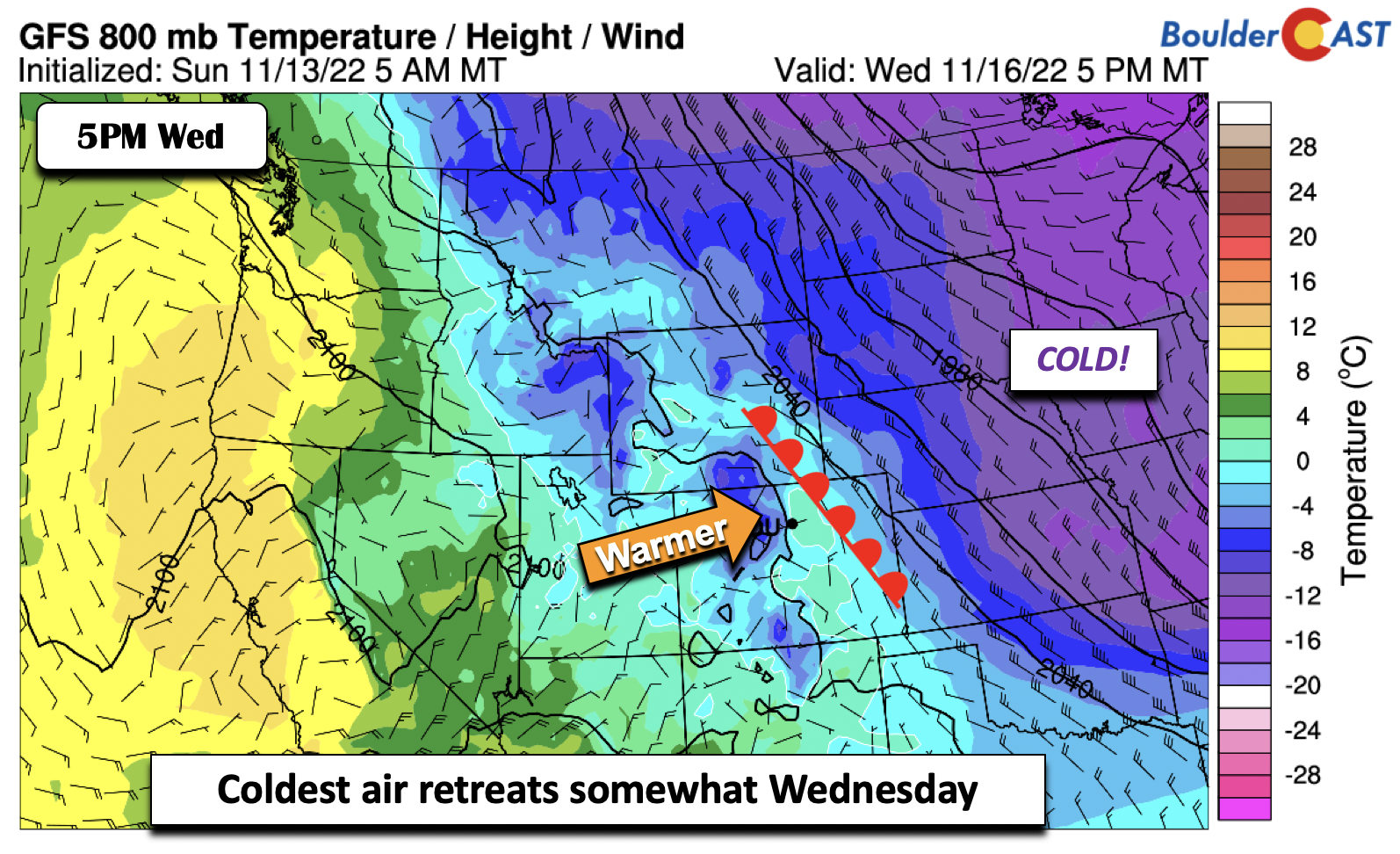 While not expected to directly affect the Denver metro area area, high altitude winds will only blow to our east on Wednesday and create some gusty surface winds over eastern Colorado during this time. We cannot rule out a possible gusty day on Wednesday but confidence of these stronger winds reaching the Boulder/Denver area is low at the moment. We'll keep an eye on it throughout the week.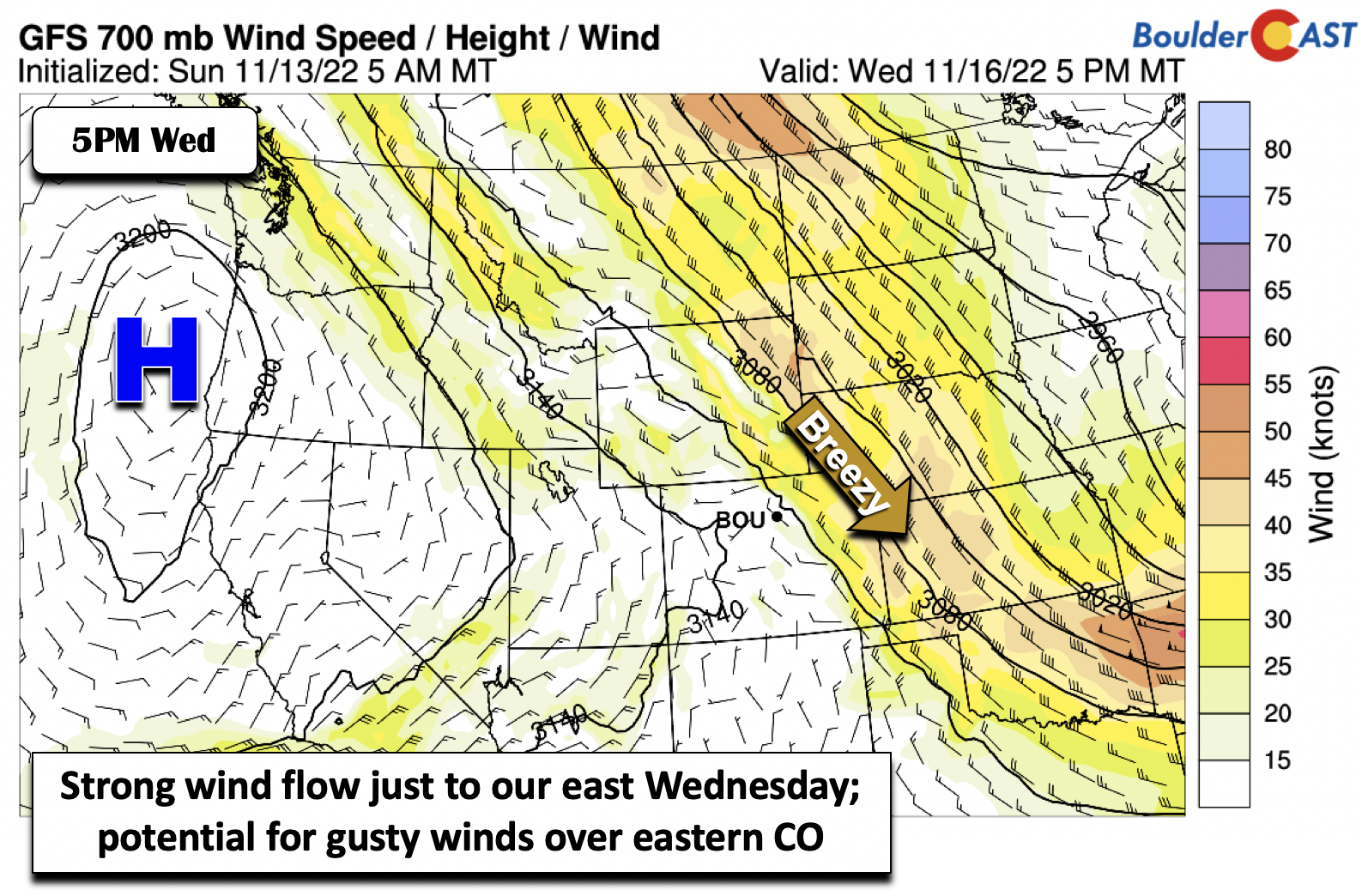 Observe a good chance of snow by the end of the week
Probably the main story for the coming week is the potential for snow accumulation Thursday through Friday. JRC/EZMWF/GEFS match the pattern fairly well. These models show another northern shortwave current submerging in the northwest current. This one has more moisture and also better jet dynamics on the upper level to make things a bit more interesting…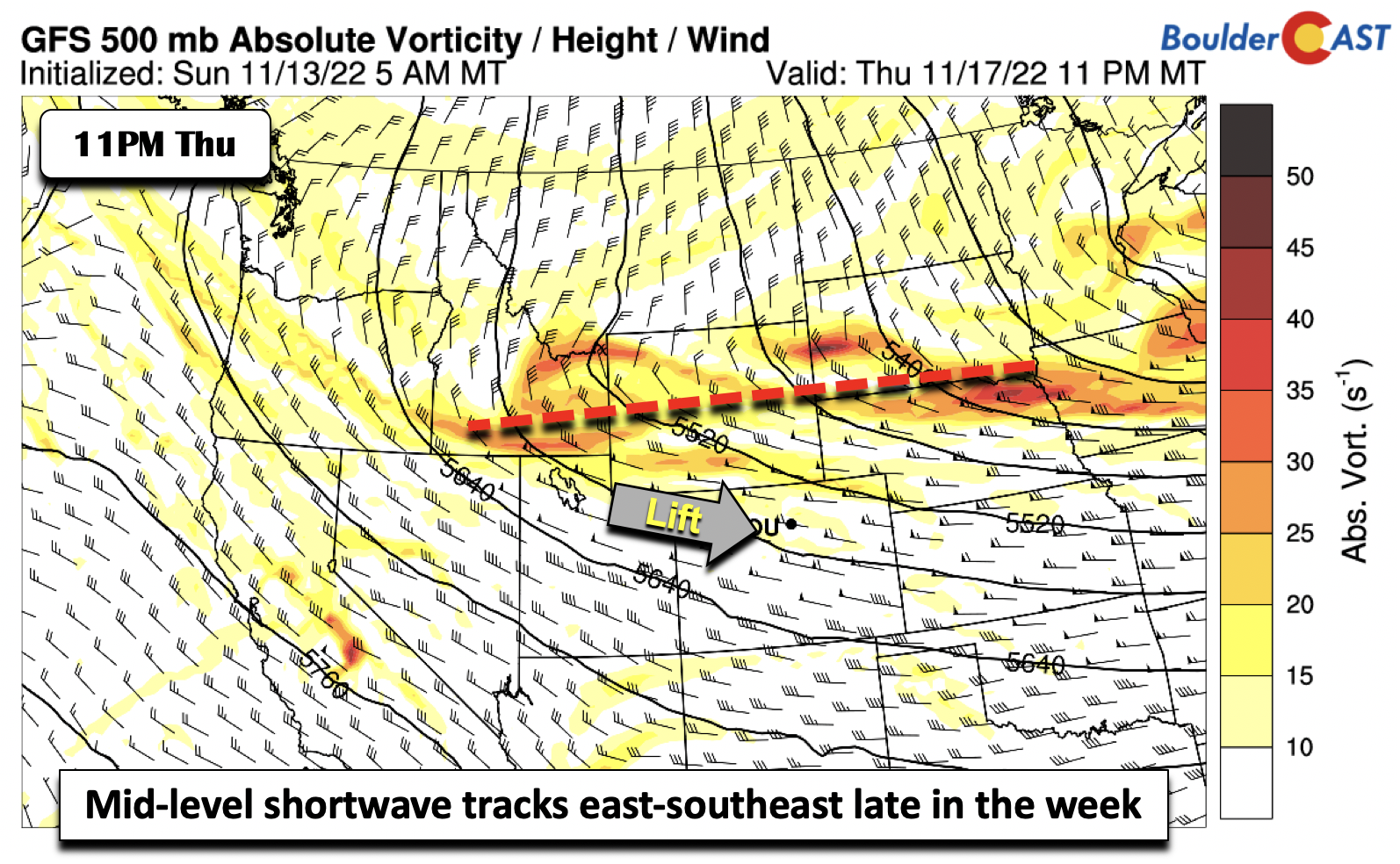 While the late-week system's jet position is likely to change between now and Thursday, the models are quite consistent with a northwest-southeast oriented jet streak stretching from Wyoming to Missouri. This pattern is very typical of La Niña winters and usually favors somewhat jet-driven, heavier snow bands.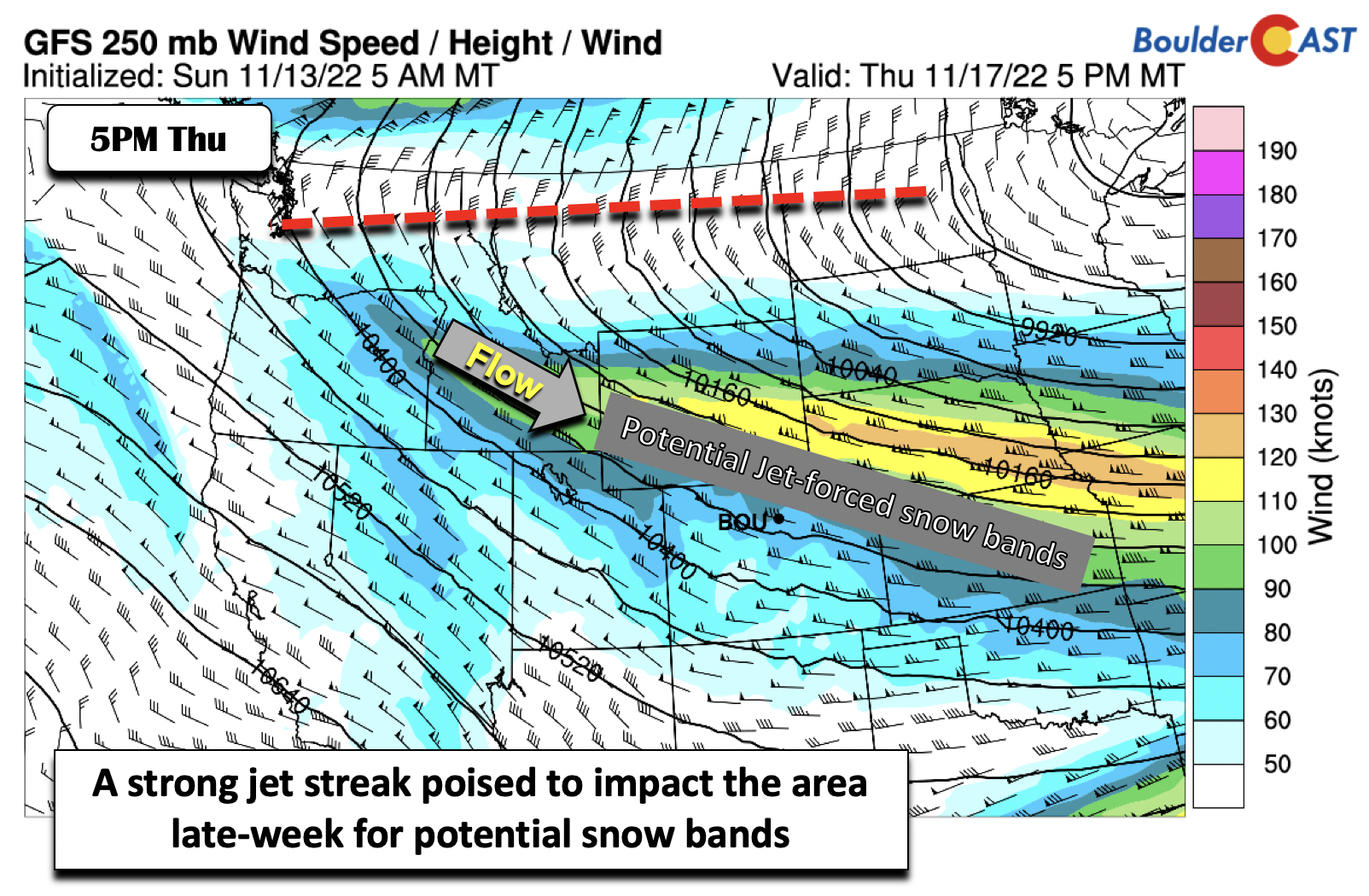 Predicting these four-day snow bands is difficult to impossible, but there are clues when looking at the data. GFS mean relative humidity fields indicate high moisture content embedded along/south of the jet streak from late Thursday through Friday. There is also a surface rise that extends to about 5,000 feet above the surface. The air mass is certainly cold enough, with our projected rain/snow line south in New Mexico.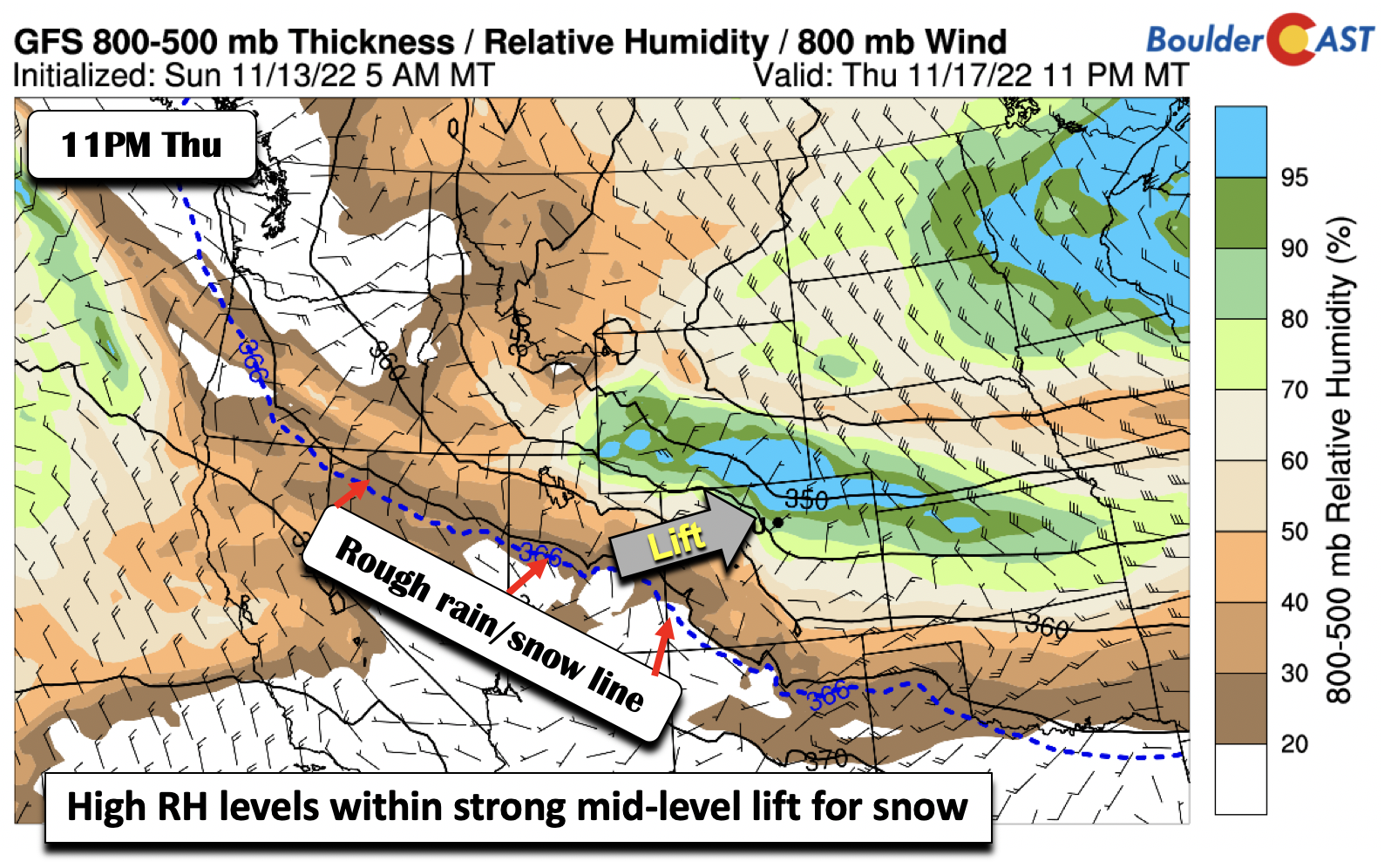 All in all, there's plenty of cold air, surface tilt, mid-level propulsion and frontogenesis from the jet streak, and just enough moisture. We'll be monitoring this system as we get closer, so stay tuned.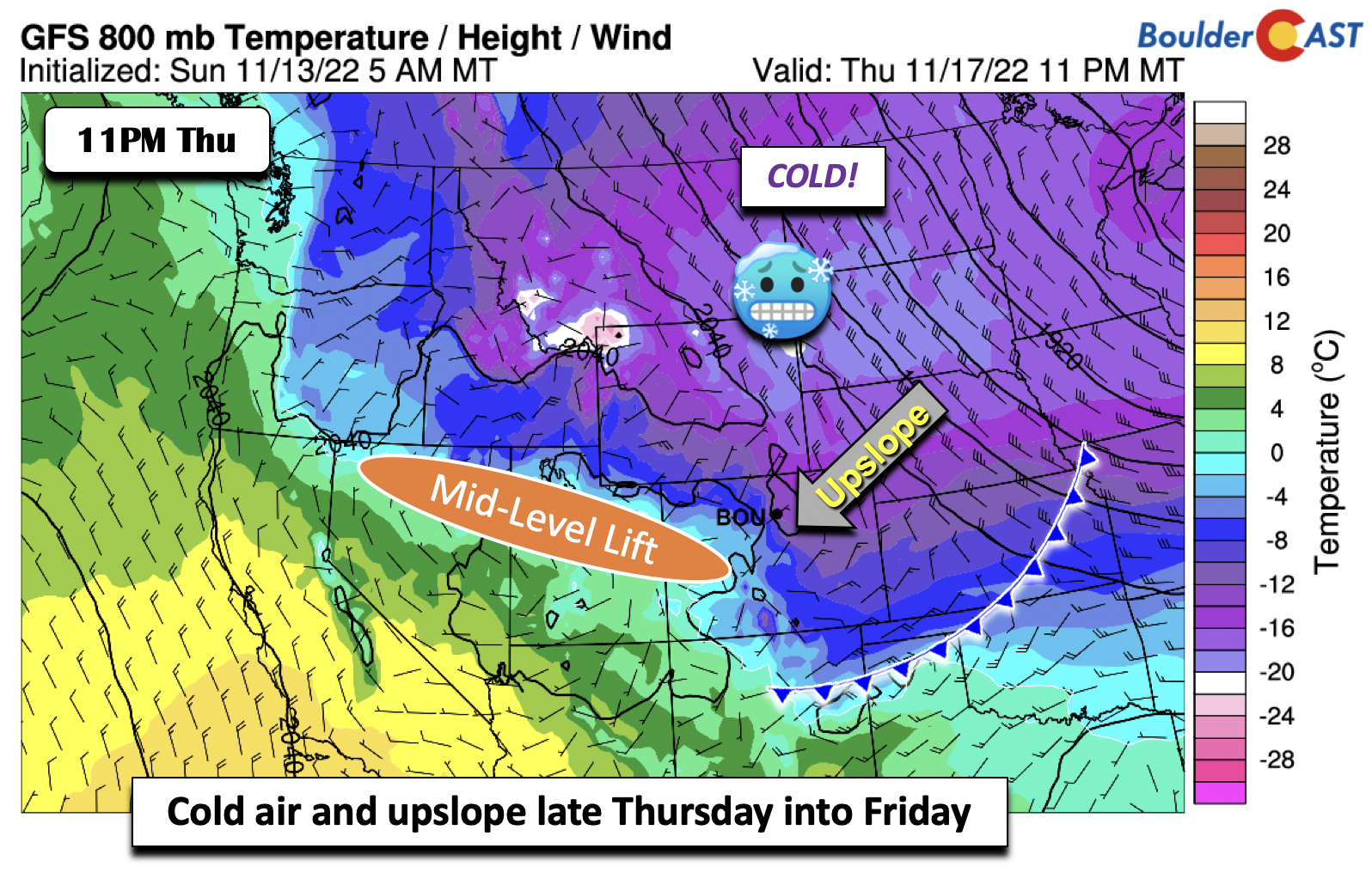 Early indications from the JRC indicate 1 to 4 inches of snow, although any jet-driven snow bands could result in localized higher amounts. We'll have to wait for the HRRR/NAM-NEST later in the week to get a better handle on these. In the absence of snow bands, Boulder is preferred for more snow than Denver anyway due to the incline. But as we've seen many times in the past, snow bands can be small and vary in space/time, so larger amounts can be found around Denver as well.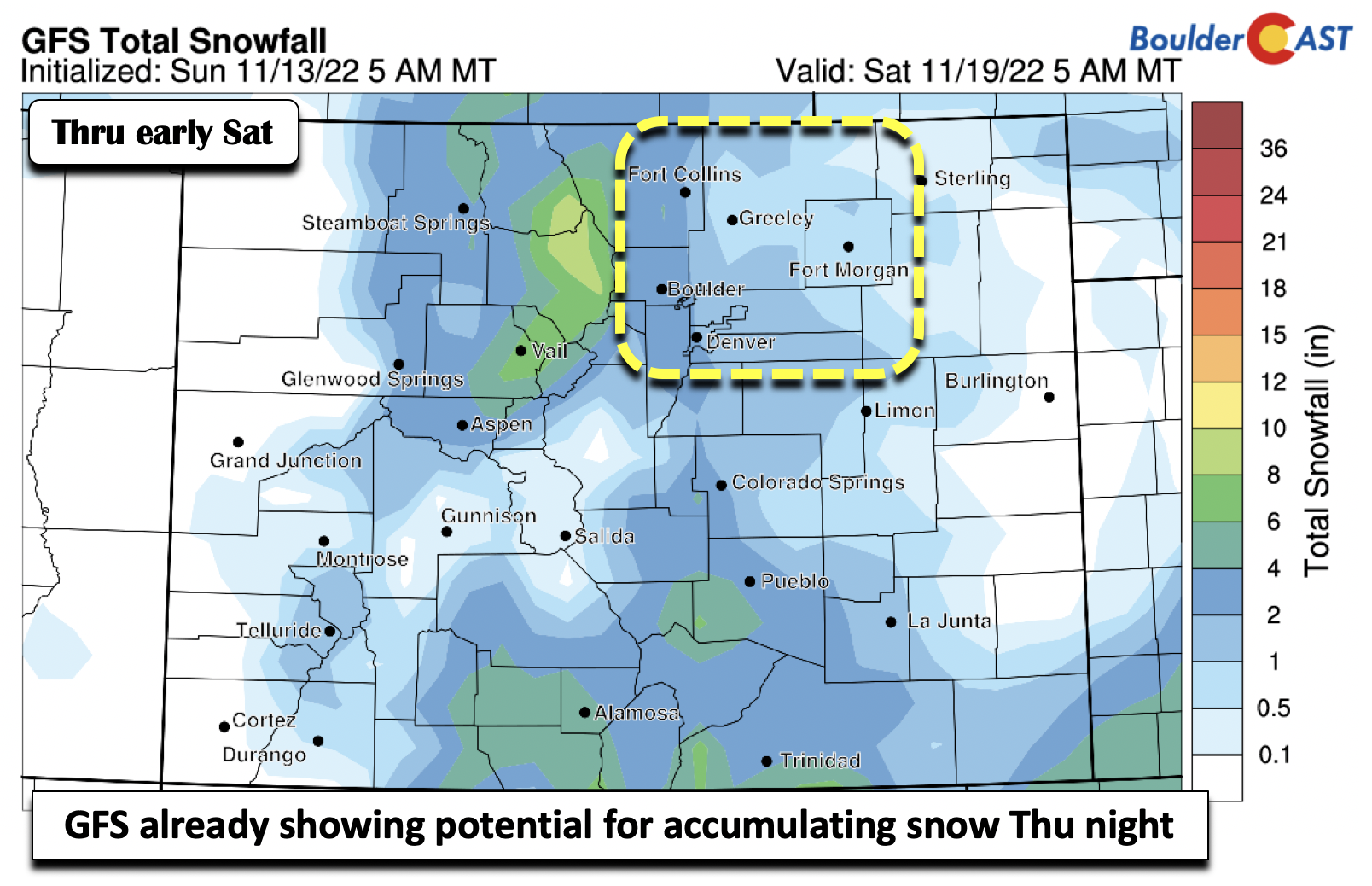 Let's take a final look at our snowfall probabilities for the late week period. They are not particularly looking forward to a moderate snow event. Current probabilities point to a broad brush of 1 to 2 inches over the Denver Metro. If the pattern we are seeing at mid-levels continues into the end of the week, we would expect these probabilities to increase somewhat. The ensembles would have trouble simulating snow bands that far out. On the other hand, if the jet moves just a little, our amounts could be less than expected. Stay tuned and think snow if you feel like it!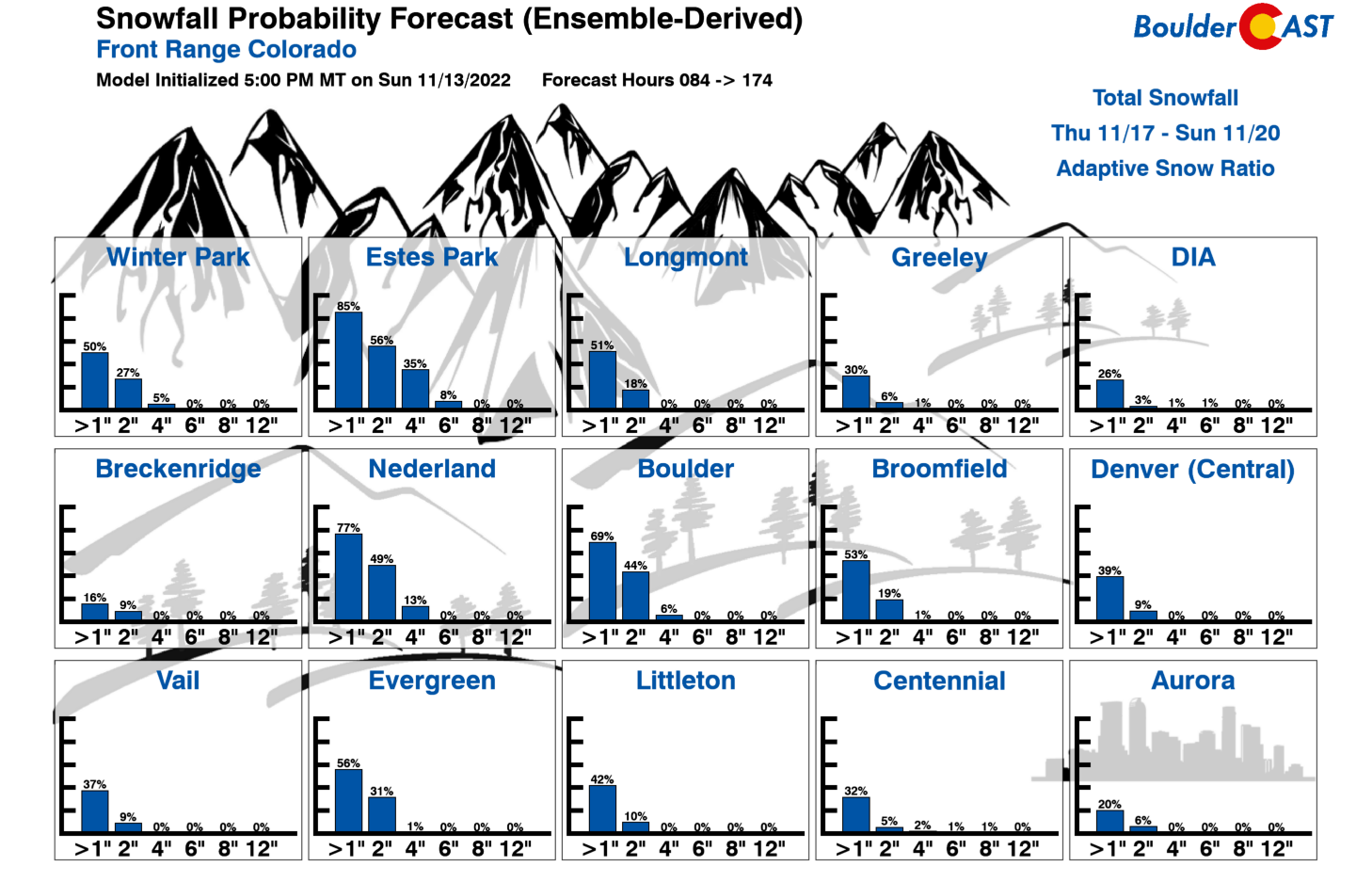 Summary of snow at the end of the week:
A much stronger cold front moves through Thursday, with temperatures falling into the 20s to peak on Friday
The front will favor a phase of gains late Thursday through Friday
A nearby jet streak could produce jet-driven snow bands in addition to the surge
Current indications suggest a good possibility for late-week snow accumulation, but amounts are still somewhat uncertain (but likely small)
Forecast Specifications:
Monday: Partly to mostly cloudy skies with a possibility of snow flurries or snow showers Monday night. Highs in the mid 30's in the Plains and upper 20's in the Foothills.
Tuesday: Partly sunny, snow showers possible in the morning. Highs in the mid 30's in the Plains and upper 20's in the Foothills.
Wednesday: Increasing sunshine with warmer temperatures around 40 degrees. Some gusty winds are possible in east Denver in the afternoon. Elevations in the foothills reach the mid 30's.
Thursday: From Thursday evening until Friday morning it will be mostly cloudy with a good chance of snow. Snow accumulation is becoming increasingly likely, but amounts are uncertain at this time. However, they should generally be light. Highs will be around 30 degrees colder with temperatures dropping into the teens overnight through Friday.
Friday: There may be light snow in the early morning, but skies are clear and mostly sunny. High temperatures remain cold in the mid to high 20's in the Plains and lower 20's in the foothills.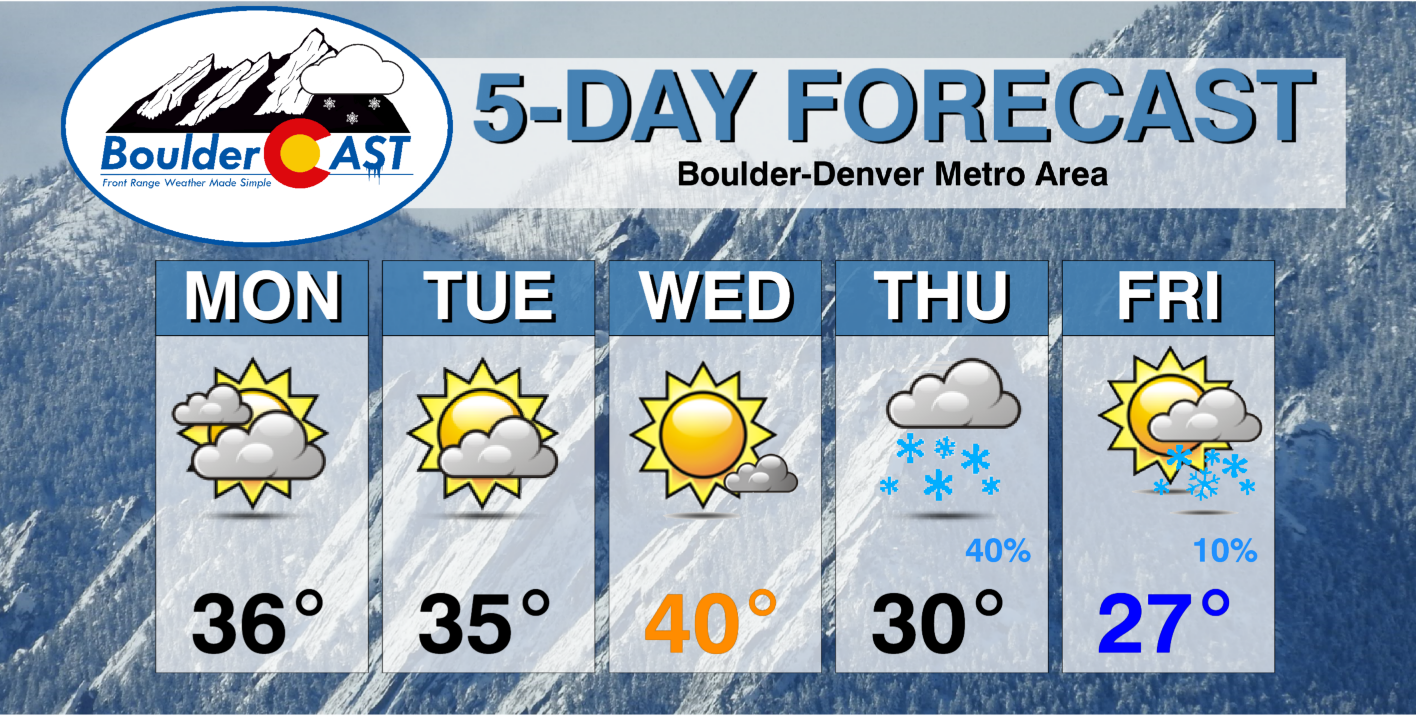 Highlands: Several mid-size systems are being routed through the state from northwest to southeast this week. Light snowfall is possible Monday through Tuesday, with light accumulations of 1 to 3 inches on northwest-facing slopes in north-central Colorado. Another chance of snow is favored in central and northern Colorado Thursday through Friday, with moderate snowfall amounts ranging from 3 to 7 inches possible over northwest-facing slopes. Overall, don't expect too much powder to accumulate at the ski resort this week. Despite the active pattern, there is not much moisture!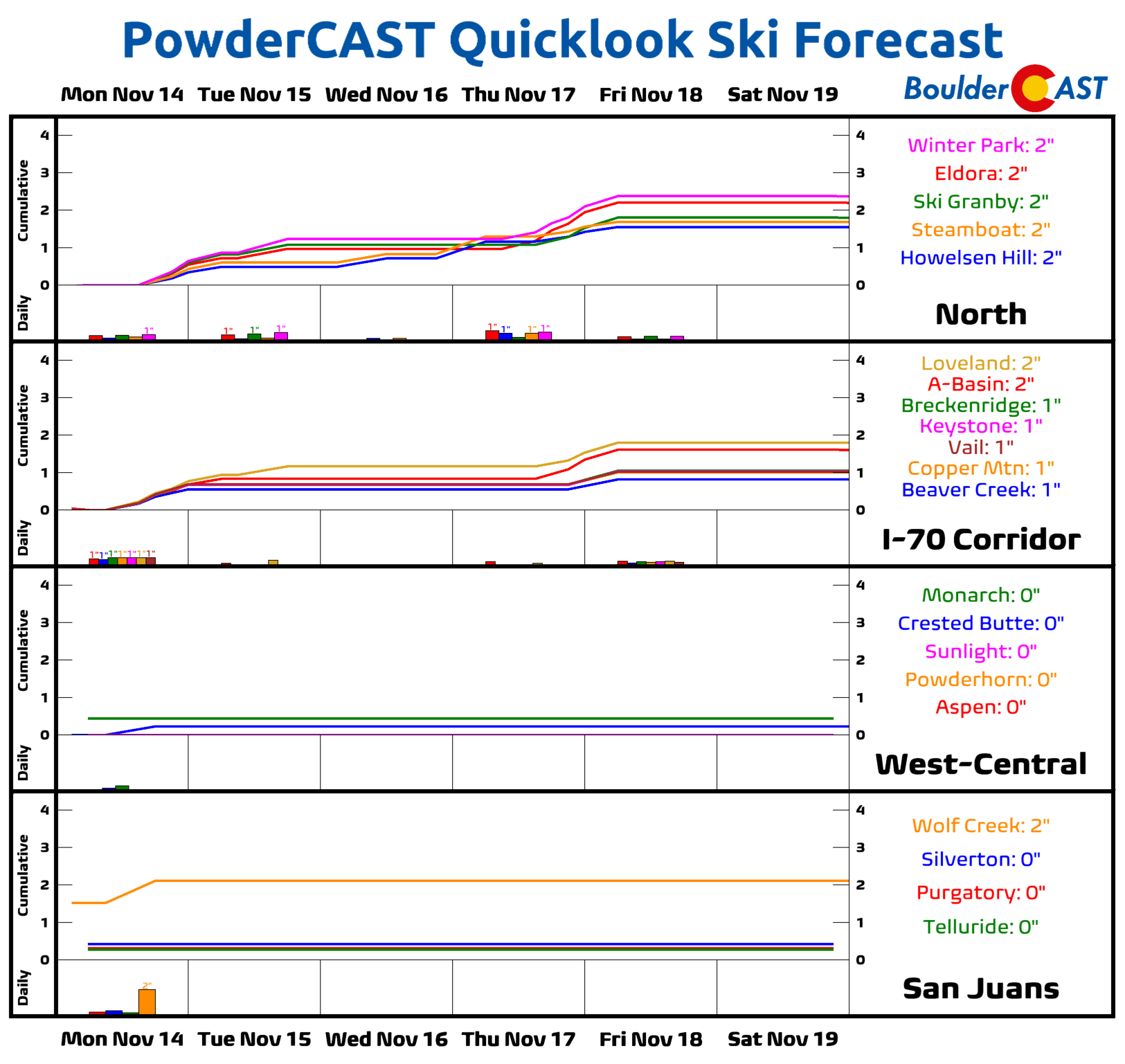 Visit PowderCAST
---
Help support our team of Front Range weather bloggers by subscribing BoulderCAST bonus. We're talking about the weather in Boulder and Denver every single day. Sign up now to get access each morning to our daily forecast discussions, complete six-day skiing and hiking forecasts powered by machine learning, premium access to all of our high-resolution Colorado weather charts, bonus storm updates, and more! Or not, we are simply happy about your readership!
Spread the word, share the BoulderCAST Prediction!