Colorado – Last year in Colorado there were over 1000 instances of drivers falling at the scene of a pre-existing accident, endangering first responders and others. The upcoming Crash Responder Safety Week (Nov. 14-18) provides an opportunity to recognize all those who are part of the Traffic Accident Management (TIM) community, including law enforcement, medical personnel and tow truck drivers. These emergency responders work to save lives in traffic accidents, but are endangered by oncoming vehicles. Traffic-related incidents are the leading cause of death for on-duty police officers, firefighters, emergency responders, maintenance personnel, and towing/salvage professionals.
According to preliminary data from CDOT, there were 1,153 reported secondary accidents on Colorado roads in 2021, resulting in 588 injuries and 10 fatalities. Such accidents happen when a vehicle on the roadway gets into a pre-existing traffic accident. These secondary accidents can be prevented if drivers slow down and exercise caution when approaching an accident site.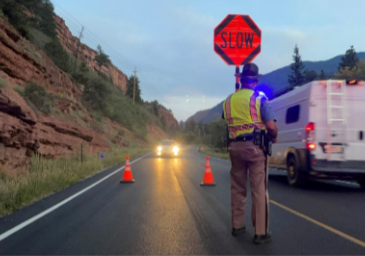 During Crash Responder Safety Week, the Colorado Department of Transportation, Federal Highway Administration, Colorado State Patrol, National Highway Safety Administration, AAA Colorado and the Colorado State Committee on First Responder Safety will work together to raise awareness of the importance of sharpen Be careful near traffic accidents along Colorado roads. In a special proclamation, Gov. Jared Polis recently declared October 6, 2022 to be Colorado's Protect Our First Responders Awareness Day.
Drivers are reminded that Colorado's vehicle rundown law requires them to cross a lane and/or slow down when approaching stopped emergency or maintenance vehicles. The law requires that if the driver cannot move at least one lane away from the stationary emergency vehicle, the driver must slow down to at least 40 km/h on roads with a speed limit below 45 miles per hour. On roads with speed limits of 45 miles per hour or more, motorists must brake to 20 miles per hour below the posted speed limit. Drivers who fail to slow down or run over commit the felony of careless driving, a Class 2 traffic offense that can result in up to 90 days in prison and a fine of up to $300.
Across the country, 65 responders working the streets were hit and killed in 2021. Here in Colorado, a South Adams County Fire Department firefighter was seriously injured in an accident on Interstate 76 last January while working on an earlier two-vehicle collision. The firefighter was in a stopped fire truck responding to a highway accident when a driver hit both an ambulance and the fire truck. In Colorado, 11 State Patrol Troopers have lost their lives after being hit by passing motorists. Countless others have been left with life-changing injuries after being hit while responding to a traffic accident.
"These deaths and life-altering injuries should not happen and are easily prevented," said Chief Matthew C. Packard of the Colorado State Patrol. "If drivers see police officers and other first responders working on the road, the law requires them to move and give them a safe place to do their work. We need to protect our officials and responders to protect drivers too. Let's work together to ensure that these devastating incidents do not happen again."
In an average month, Colorado emergency responders respond to 2,088 traffic accidents. CDOT and its partners are committed to improving the management of traffic incidents so that incidents can be identified, responded to and resolved so that traffic flow can be restored as safely and quickly as possible. You can learn more about Colorado's efforts by visiting ColoradoTIM.org.
Know before you go
Travelers are urged to "know before you travel." Gather information about weather forecasts and expected travel impacts and current road conditions before setting off. CDOT resources include:
Remember: slow for the cone zone
The following tips are designed to help you travel safely through maintenance and construction work.
Do not accelerate in work areas. Observe the posted speed limits.
Stay alert! Expect the unexpected.
Watch out for workers. Drive carefully.
Don't change lanes unnecessarily.
Avoid using mobile devices such as phones while driving in work areas.
Turn on your headlights so workers and other drivers can see you.
Be extra vigilant at night when driving in work areas.
Expect delays, especially during peak travel times.
Leave enough space between you and the car in front of you.
Anticipate lane changes and drive together when prompted.
Be patient!
Download the COtrip app!
The new FREE mobile app COtrip Planner was developed to meet the growing trend of information on mobile and tablet devices for the traveling audience. COtrip Planner app provides real-time traffic information nationwide and works on mobile devices operating on iOS and Android platforms. Visit the Google Play Store (Android devices) or the Apple Store (iOS devices) to download!