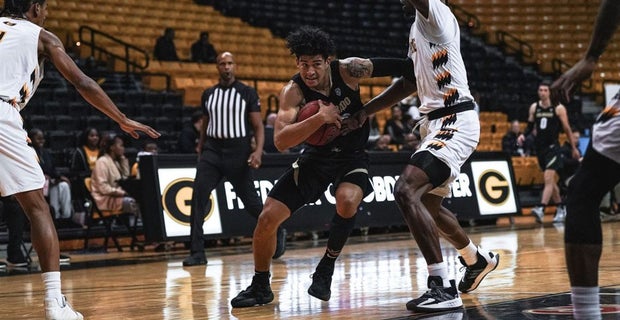 The Buffaloes began their long road trip with a loss to Grambling State on Friday night, 83-74.
"They played like they wanted to win this game and we played like we expected them to turn around and bow to us," Colorado head coach Tad Boyle said.
Trouble started early for the Buffs, who quickly lost 8-2 in the first half. Boyle often cycled the starters and the bench, yet the offense struggled to make anything fall as Grambling State continued to extend their lead.
Jalen Gabbidon came off the bench to provide a brief spark and went 2-on-3 on his first field goal attempts. Colorado continued to struggle to find a spark on offense. Two free throws from Hammond followed by a dunk from Nique Clifford provided Colorado with a short scoring run, but it was short-lived and the Tigers continued to lead 46-32 at halftime.
"We just weren't ready for their pressure," Clifford said. "We just didn't come out ready to be ready."
Tristian da Silva, who had 12 points and five rebounds against UC Riverside, had four points with a field goal and two free throws. He had six assists and played more minutes than anyone in Colorado.
In addition to shooting problems, CU struggled early with turnovers. Colorado rallied eight in the first ten minutes of the game. By the start of the second half, Grambling had 14 points from turnovers. Colorado finished the game with 19.
"We weren't ready for the pressure that was suddenly stress that they're going to play and be aggressive on defense. We had to take care of the ball and we didn't do that tonight," said Clifford.
The Buffs came into the second half with many of the same issues as the first. The offense continued to struggle with potted shots while turnovers continued.
The Colorado Defense put them back in the game. Gabbidon continued to trouble the Tigers with back-to-back steals and layups, cutting Grambling's lead to 60-49. Ethan Wright ended the race with his own layup.
In the tense minutes of the game, both teams began to coordinate shot after shot. KJ Simpson started warming up, finishing the game with 16 points as the Colorado leader.
Grambling thrived from the three-point line. They shot 7-on-17 from beyond the arc, with many coming into clutch moments. Colorado went 5-for-21 behind the line.
The Buffaloes started with a press in the dying seconds. She made multiple sales from Grambling State. Missed shots and poorly timed turnovers cost Colorado a chance to take the lead, and the Buffs suffered their first loss of the season.
"We need to get back to the gym and mentally prepare. That's all we can do at the moment," said da Silva.